Happy Day
, 2021
In Rotterdam
, 2021
The Highs and The Lows
, 2021
Bridging The Distance
, 2021
Adrienguillet.com
, 2021
Montréal, Québec
En cours
, 2017
Pour l'École de design, UQAM
Montréal, Québec
Centre for Digital Rights
, 2020
Photo par
Philip Cheung
Toronto, Ontario
"New City Myths," 2012
Essai pour
Volume
Amsterdam, Noord-Holland
Terra Nullius no. 1
, 2019
Plana Pastoralem
, 2019
Turrim
, 2019
Without A View, 2020


More In Common, 2020


La Partecipazione Alle Idee, 2010
Curatée par Melissa Destino
Bologna, Emilia-Romagna
Hazlitt
, 2014
Revue pour
Penguin Random House
Éditée par Chris Frey
Toronto, Ontario
Verenigde Sandbergen
, 2010
Créée avec
Lauren Grusenmeyer
Amsterdam, Noord-Holland
Hz
pour
Hazlitt
, 2014
Appli pour
Penguin Random House
Codée par Cedric Flazinski
Toronto, Ontario
Direction photo pour
Flare
, 2013
Photo par
Norman Wong
Toronto, Ontario
Sculpture par
Vanessa Maltese
Direction photo pour
Apex
, 2015
Photo par
Ryan Young
Los Angeles, Californie

Exposition à Brakke Grond
Amsterdam, Noord-Holland
Remise de prix et exposition à Pakhuis de Zwijger
Amsterdam, Noord-Holland
Direction photo pour
Walker Art Center
, 2017
Photo par
Norman Wong
Minneapolis, Minnesota
Direction photo pour
Apex
, 2015
Photo par
Norman Wong
Nouvelle-Orléans, Louisiane
Résidence de recherche
Artexte, 2018
Série d'affiches, 24 x 36 po

Montréal, Québec
Something Like Desire
, 2018
En cours
, 2017
Pour l'École de design, UQAM
Montréal, Québec
Direction photo pour
Apex
, 2015
Photos par
Norman Wong
Nouvelle-Orléans, Louisiane
Écrits en français et en anglais sur :
La pensée positive et ses ombres

L'industrie du bonheur

La reconnaissance d'émotions
L'image de l'architecture

La cité « intélligente »

Le scandale de Sidewalk Labs
Les sentiments du colophon
, 2021 – Un colophon pour le portfolio de l'artiste Adrien Guillet, sur la production du bonheur dans l'art et le commerce.
Adrienguillet.com
Adrien Guillet
Montréal, Québec
These Are Still The Times
, 2020 – Interview with Pratt Institute professor Chris Lee, about ongoing economic crises and their effects on graphic art and education.

Design Dedication
Sandberg Instituut et Valiz Books
Amsterdam, Noord-Holland
Greg Durrell: Design Canada
, 2019 – Film review of
Design Canada
as a specimen of Canada's dominant colonial fiction—repackaged with happy house tunes, modern design and architecture.
C Magazine
C for the Visual Arts Foundation
Toronto, Ontario
Apprendre de LUST : mirroirs et folie numérique
, 2018 – Une remémoire épistolaire avec Greg J. Smith sur la dissolution du studio d'art et d'urbanisme LUST.

Back Office
Édition B42
Paris, Île-de-France
A Solo Space For All To See
, 2020 – Essay about "the happiness industry" in the home—under pandemic peril and Google urbanism.
The Big Picture
New Cities Foundation
Montréal, Québec
Where The Image Flows: How Sidewalk Labs' Public Relations Came To Dominate Journalism
, 2019 – Visual essay on how a Google sister company pitched a "smart" city image for Toronto.
Failed Architecture
FA Foundation
Amsterdam, Noord-Holland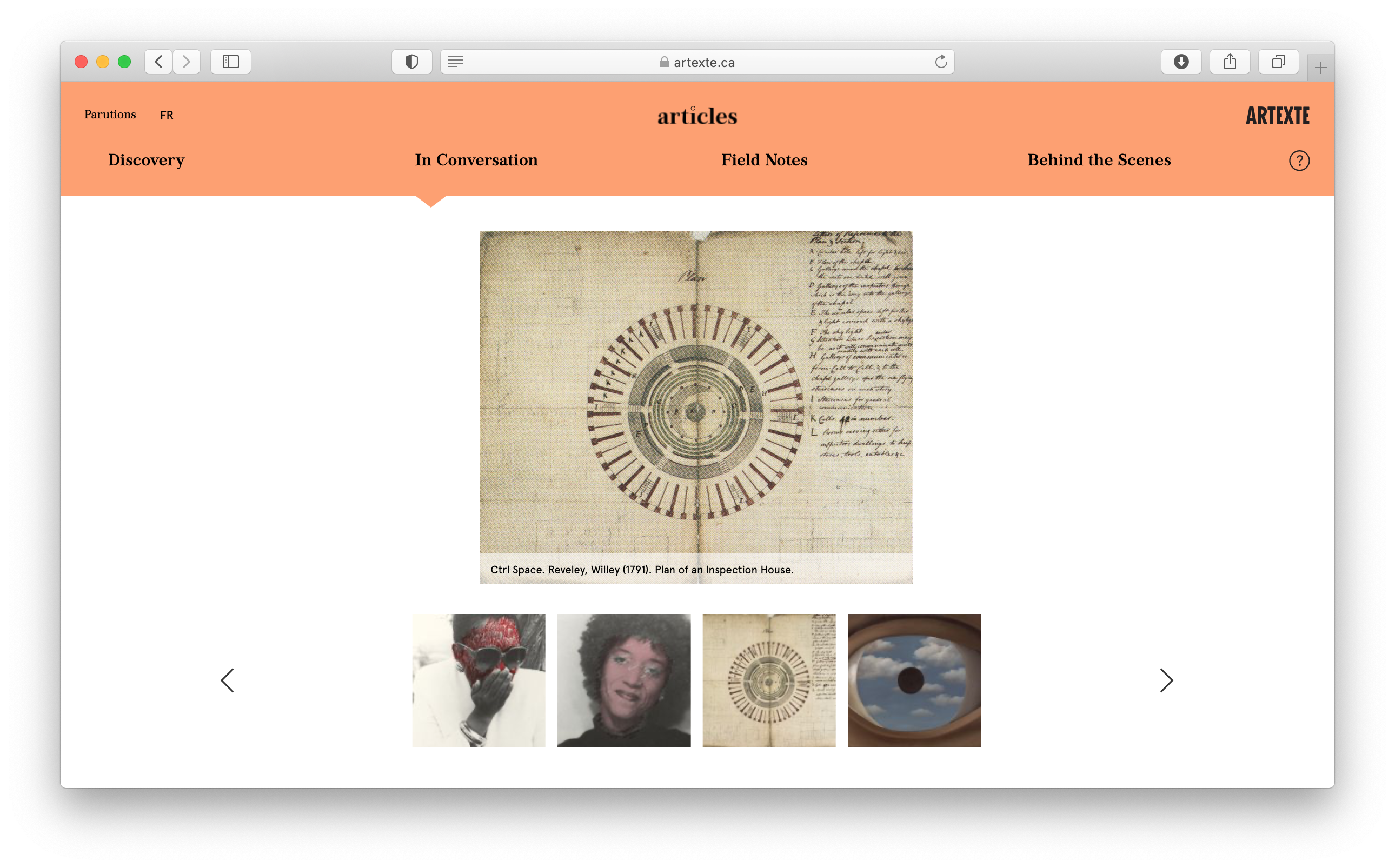 A Conversation with Michèle Champagne
, 2018 – Written interview on the vocabulary of "the happiness industry" and the critical alternatives offered by art and architecture.


Articles
Artexte
Montréal, Québec
New City Myths
, 2012 – Essay on the visual mythology of private towns as a key tool in the power brokering of architecture, real estate and geopolitics.
Volume
Archis Foundation
Amsterdam, Noord-Holland